The End of the F*cking World, did season 2 make the show better or worse?
Broadcasted both on Neflix and Channel 4, British series "The End of the F*cking Word" had a massive audience reach. It starred British actors Jessica Barden and Alex Lawther.
Assuming you have watched Season 1 (stop now if you haven't), you would know that it ends (last time to stop reading); with James being shot by the police.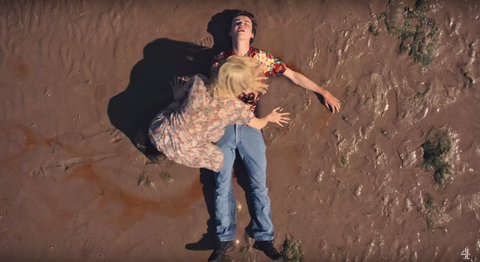 We are left not knowing wether James is dead or not, or how Alyssa will be punished. After waiting for almost two years, we re-meet both characters for the second season of the show. The End of the Fucking World – Season 2
During the second season Alyssa is painted at more vulnerable than ever, she is really struggling to deal with everything that had happened to her in the first season on her own. Her life is moderately happy but is moving very quickly, she has a waitressing job in a new town and is about to get married to her boyfriend.
On paper it seems like a pretty decent life, but knowing Alyssa she secretly misses the thrill. Her mother is overly pushy about her having a fairytale life, she probably even liked Alyssa's (brief) husband a bit more than she did.
Alyssa being Alyssa is able to show people what she wants to show about her, but we the audience; are inside her head. We know that she is losing a battle against her inner demons.
She is struggling to deal with almost being raped in season one, watching James kill for her, and then aiding and abiding the murder coverup. Alyssa isn't getting the help she needs, her outlet is doing reckless things such as getting married on impulse to her new boyfriend.
I think we forget in the show that Alyssa and James were only 19 years old, which is probably even younger than a lot of the shows viewers. Although they go through situations that hopefully few teenagers have experienced (murder) the way that they react remain true to their characters.
Although never really vocalised by Alyssa, sexual assault plays a big part of her trauma, she undergoes a lot of stress throughout the second series as she is struggling to find an outlet. Alyssa isn't painted as weak, she is painted as emotionally damaged, in the first series she was a lot better at masking her pain, but now the only thing that she can do is try to avoid it.
It was a good decision for the producers to paint her like this, they are reminding us that even the meanest of girls, have demons to face to. As the audience we really grow to empathise with her, she is no longer the selfish character from the first series.
James
James, James James. His character on the other hand isn't really developed, his story is just continued. James only shows two emotions in the show, grief for his father and love for Alyssa, but neither are deeply expressed. This could have been on purpose by the producers to emphasise how is brain works. I however don't think that is was the wisest decision, it feels as though James's character is stuck in season 1.
His isolation from people whilst he was at the hospital made him even more socially awkward than in season 1. Compared to Alyssa who is finding herself.
You can't talk about the show without talking season 2's Bonnie; played by Naomi Ackie. Bonnie's character is undoubtedly troubled throughout the series. She has devoted herself to the task of hunting down and killing the two teenagers in vengeance of her dead lover. Her acting is inspiring as she is able to tell stories whilst also showing minimal emotions.
To conclude, season 2 did make the show better, as issues such as mental health and consequences were properly addressed.